I don't know about all of you but I'm pretty stoked for summer. Winter sucks but we cant change the weather so lets just look at some really hot frames! ha. Summer and cheese, nothing's better.
So for all of you keeping track of the cozy Mosley Tribes Collection you might of noticed 2 new models out earlier this year. One being the MT Gates and the second being the MT Lyndel. Two frames that each rock there own unique characteristics.
Looking at the Lyndel You'll see right away that its not your usual classic shape. Before noticing a keyhole bridge and some modern sharp angles you'll notice the gingham pattern on it. Take a closer look and you might notice its ACTUAL gingham pattern cloth pressed in the plastic!
If you take a glance at the Gates you might think its a simple throwback style sunglass, until you slap this number on and realize the whole front flips up(Dwayne Wayne style). Now you have the option to go with our without the coverage of your tinted lens. Pretty fun shit if you ask me.
Lets take a look.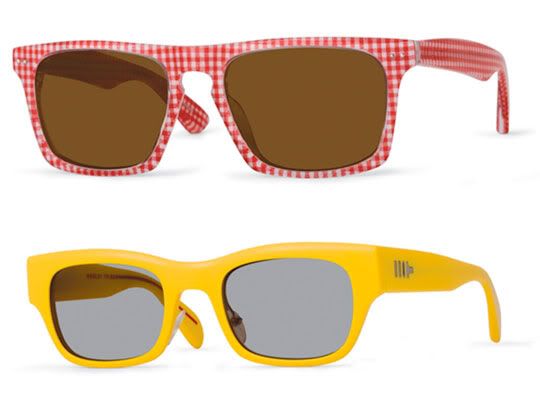 Top : Lyndel
Bottom : Gates
Be sure to get a hold of us or stop by one of the 3 locations and check these frames out!
-Daniel Philippe Bruno Poirier
Tweet